Sujet: Au sujet des predef' Sam 15 Mai - 16:25

---

Hey, oh,

Donc je suis un invité ( faites peter le thé, déjà.). Et plus sérieusement, il semblerait que pas mal des prédefinis soient pris, mais c'est absolument pas indiqué. Ce qui me pose problème, puisque j'envisageais de jouer un prédefinis. Alors lesquels sont disponibles exactement?

Que j'évite de faire l'idiot, en créant un doublon sans m'en rendre compte.
▬▬▬▬▬▬▬
Clyde A. Buckley
ADMIN | Just a curse. Have a nice day.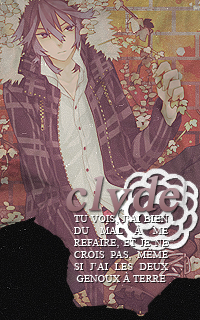 Messages

: 2186


Date d'inscription

: 11/02/2010


Age

: 25


Sujet: Re: Au sujet des predef' Sam 15 Mai - 16:45

---

Bonjour !

En fait, sur le premier post des prédéfinis, il y a quatre petite icons. Passe ta souris dessus et tu verras l'indication "libre" ou "pris" suivant le personnage.

En espérant avoir été clair =)

_________________

Every great magic trick consists of three parts or acts. The first part is called "The Pledge". The magician shows you something ordinary: a deck of cards, a bird or a man. He shows you this object. Perhaps he asks you to inspect it to see if it is indeed real, unaltered, normal. But of course... it probably isn't. The second act is called "The Turn". The magician takes the ordinary something and makes it do something extraordinary. Now you're looking for the secret... but you won't find it, because of course you're not really looking. You don't really want to know. You want to be fooled. But you wouldn't clap yet. Because making something disappear isn't enough; you have to bring it back. That's why every magic trick has a third act, the hardest part, the part we call "The Prestige"."
Sujet: Re: Au sujet des predef' Sam 15 Mai - 16:50

---

Oh merci! <3

*j'avais jamais vu ça*
Sujet: Re: Au sujet des predef'

---