Sujet: Quelques intrigues Sam 9 Oct - 14:17

---

Hum voilà. Apparemment, Aliénor connait certaines choses. Comme la présence de Morrigan dans les cachots, où l'endroit où se trouvent les 3 objets de haute importance comme la pomme de la discorde ... Et sûrement d'autres choses

Si les administrateurs le savent, est-ce que je peux être mise au courant aussi ? ^^' Ici ou par mp si c'est du top-secret :°

Merci beaucoup :°
▬▬▬▬▬▬▬
Clyde A. Buckley
ADMIN | Just a curse. Have a nice day.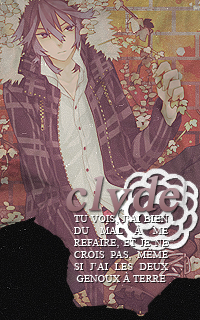 Messages

: 2186


Date d'inscription

: 11/02/2010


Age

: 25


Sujet: Re: Quelques intrigues Sam 9 Oct - 15:12

---

le trucs c'est que nous mêmes ne le savons pas Enfin, moi pas en tout cas. Exemple des trois artefacts : je dis qu'ils sont dans une salle du trésors connue des directeurs seuls, mais sur le forum elle n'y est pas...

Donc je ne sais pas si Aelys a prévu d'autre secret du genre, mais en tout cas, il ne me semble pas é__é

_________________

Every great magic trick consists of three parts or acts. The first part is called "The Pledge". The magician shows you something ordinary: a deck of cards, a bird or a man. He shows you this object. Perhaps he asks you to inspect it to see if it is indeed real, unaltered, normal. But of course... it probably isn't. The second act is called "The Turn". The magician takes the ordinary something and makes it do something extraordinary. Now you're looking for the secret... but you won't find it, because of course you're not really looking. You don't really want to know. You want to be fooled. But you wouldn't clap yet. Because making something disappear isn't enough; you have to bring it back. That's why every magic trick has a third act, the hardest part, the part we call "The Prestige"."
Sujet: Re: Quelques intrigues Sam 9 Oct - 15:16

---

Ok merci

Je vais attendre de savoir sur Aelys elle-même le sais. Mais c'est gentil d'avoir répondu rapidement
▬▬▬▬▬▬▬
Aelys E. O'Brien
ADMIN | Give me the chocolate and nobody gets hurt.
Messages

: 2670


Date d'inscription

: 07/08/2009


Age

: 25


Sujet: Re: Quelques intrigues Sam 9 Oct - 19:53

---

Étant donné qu'Aliénor est la directrice, il est normal qu'on l'utilise souvent dans les intrigues ou dans les infos concernant Aisling, mais en général ca reste "à titre d'information", de mise en contexte. Si rien n'est précisé, rien n'est défini à l'avance :) Pour les colles par exemple, il me paraissait logique qu'elle connaisse l'existence des habitants permanents d'Aisling x)
Sujet: Re: Quelques intrigues

---